Episode 27: Birthright, or The Name Ed Stark Sounds Familiar
[ 1:51:01 ]
Play Now
|
Play in Popup
|
Download
(549)
The forgotten campaign setting of D&D, as Ross likes to call it. The original creator of Birthright, Richard Baker, joins us to talk about the setting that just might have inspired Game of Thrones. You are a king, lord of your land with the divine right to rule – literally, you have divine energy that fuels your bloodline. This is Ross's favorite campaign setting and, after recording and listening to the episode, Darryl is pretty intrigued as well. So sit back while we tell you all about why you should remember Birthright.
Sponsors
Drive Thru RPG, your source for digital copies of your favorite games
Spirit Store, the year-round costume and decor store
Richard Baker
Atomic Dragon Battleship (Rich's blog)
Accursed Adventure: Banshee of Loch Finnere
What We've Been Playing
RPG Geek of the Week link to Ross's week
Central Casting Heroes of Legend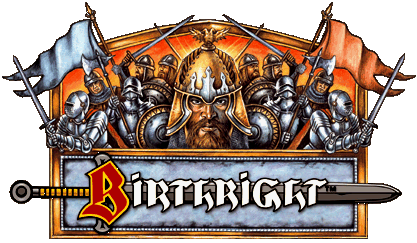 Birthright
Ed Stark (Ross's interview with him)
Birthright Campaign Setting (Now available for purchase)
Gamer's Tavern Episode 16: Worldbuilding
Birthright on Amazon Marketplace
Note: Due to a technical issue (my mixer is eating XLR cables), there's no closing to this episode. This episode is licensed under a Creative Commons Attribution Non-Commercial No-Derivatives 4.0 license. Music for the Drive Thru RPG ad is "Tavern Brawl (Demo)" by Save or Die, Copyright 2013, all rights reserved, used with permission. Music for the Spirit Store ad is "Inside" by b-Shake, licensed under a Creative Commons Attribution Share-Alike 3.0 International license.